Registration is now open for all three Regional Fall Gatherings taking place in October. With the national CUC conference shifting to a bi-annual schedule, these regional gatherings offer an annual opportunity to network and connect with our UU neighbours and friends.
Western Regional Fall Gathering - October 14-16
Hosted by the Saskatoon Unitarians - Saskatoon, SK
Registration now open! Deadline is October 5, so register ASAP! (No late registrations accepted!)
$160 regular | $130 student/low income (self identified) | Children 12 and under free.
---
Eastern Regional Fall Gathering - October 22
Hosted by Lakeshore Unitarian Universalist Congregation, Lachine, QC
Registration now open! Deadline is October 17
$60 Early Bird (until October 10) | $70 regular (after October 10)
---
Central Regional Fall Gathering - October 29
Hosted by Grand River Unitarian Congregation - Kitchener, ON
Registration now open! Deadline is October 21
$75 adult | $25 youth & young adult | $30 jr. youth program
---
Why should you plan to attend this gathering of Unitarian Universalists in your part of the country? Here's what people said about last year's regional fall gatherings:
"There is no better way to renew one's faith in the future of our church than to spend a few hours in the company of our talented and committed youth! I very much look forward to another regional gathering!" –Martin Dooley, Hamilton
"Connecting with other Unitarians from around BC, learning and being inspired, and enjoying the opportunity to work and worship together made this weekend most worthwhile." —Joan Morris, Beacon Unitarian Fellowship
"It can be a bit isolating being Unitarians and Universalists in this hinterland, the Atlantic Provinces. I had hoped that getting together with our UU cousins from Halifax, Saint John, and PEI would be a uniting and strengthening experience and I was not disappointed. It was wonderful to chat and to share with our neighbouring UUs." – Glenna Hanley, Fredericton
CUC Board L to R: Carol Cumming Speirs (Eastern), Neal Cameron (Youth Observer), Rev. Debra Faulk (Minister Observer), Keith Wilkinson (BC), Jane Ebbern (Western), Jaime Dunton (Eastern), Tanya Cothran (Central), Kristina Stevens (BC), Lorna Weigand (Central), Susan Ruttan (Western).
By Keith Wilkinson, President
The CUC Board held its annual fall meeting & retreat in Toronto from 21 – 24 Sep 2016. Here are some of the highlights of decisions and actions.
Strategic Planning
1. Reaffirmed our commitment to the CUC Vision Implementation Team.
2. Approved an updated Mission statement for the CUC: Growing Vital Unitarian Communities.
3. Conducted a joint board and staff SWOT analysis (Strengths, Weaknesses, Opportunities, Threats). From this we saw some key priorities to be:
• Develop a sustainable funding model for our operations;

• Improve our website to serve both members and visitors

• Continue Truth, Healing and Reconciliation work with indigenous peoples

• Continue building resources, and link to the many useful initiatives of the UUA

• Continue to build a strong relationship between CUC and UU Ministers of Canada (UUMOC)

• Enhance our leadership development efforts, especially for youth and young adults
4. Finalized a statement that helps articulate the CUC's value to its members/owners:
The CUC is a beacon for Unitarian Universalist communities across Canada, providing them with leadership, support and connection as they strive to foster a just and sustainable world and to enrich the spiritual lives of their members.
AGM 2017 Reminder
The 2017 Annual General Meeting of the Canadian Unitarian Council will be taking place on Saturday, May 13th, hosted by the First Unitarian Congregation of Toronto. Online participation will be available for delegates outside of Toronto. More information will follow, including delegate registration in January, 2017.
As announced in Budget 2016, the Canada Revenue Agency will collaborate with the Department of Finance to engage with charities to clarify the rules governing political activities. The online consultations are now open, and the in-person consultations – which will be held in six cities across Canada – will follow at a later date. The online consultations are the first step in a broader engagement process, and are open to all Canadians, including charities. CRA encourage you to visit their website and submit your feedback before November 25, 2016.

All feedback received will be fully considered in policy development efforts, including the development of updated guidance or educational resources for charities on the rules governing political activities.
Each year, CUC staff requests your congregational membership numbers for our records and for calculating Annual Program Contributions and delegate allocations. In addition to this information, we are also updating information about your leadership roles and congregational programming and activities. The survey will take some time to fill in, and if you'd like a pdf copy of the questions ahead of time, please email info@cuc.ca. We suggest that the president (or equivalent) assume responsibility for making sure the information is gathered. File the information so that it's easily accessible, as we will be asking for updated information annually. Please complete the survey here by November 10, 2016.
Rev. Linda Thomson will host an on-line roundtable, where participants share their best information about how to structure a canvass, supporting canvassers and how to build a culture of generosity.
Tuesday Oct. 11th at 8 p.m. – 9:15 p.m. Eastern (starting at: 9 p.m. Atlantic, 7 p.m. Central, 6 p.m. Mountain and 5 p.m. Pacific)
Click here to Register (no charge)
Are you reading the Truth and Reconciliation Commission Canada Report and Suggested Actions? Would you like to discuss your discoveries with other Unitarians across the country? Is there an action you are committed to making? Join April Hope, Social Responsibility Coordinator, online for our first national discussion group beginning Wednesday, November 2 at 8:30pm ADT | 7:30pm EDT | 6:30pm CDT | 5:30pm MDT | 4:30pm PDT
The TRC Reading Challenge website is a great resource that allows you to read the Report and track your progress, and issue an invitation to your friends to read it too - http://trcreadingchallenge.com/
If you have any questions please contact April Hope at april@cuc.ca
Click here to register (No charge)
By Rev. Wendy Luella Perkins
Lake Joe, Lake Joe
It's paradise to me
At Lake Joe, Lake Joe
I'm happy and free
Song: Lake Joe – Wendy Luella Perkins
For the last four years, September has been marked by my participation in an amazing summer camp up in Muskoka. While many of the folks at Kingston Unitarian Fellowship (KUF) are enjoying the beauty and community at Unirondack, I will be at Lake Joe, a CNIB camp facility near Parry Sound, Ontario. The annual retreat I attend is run by the Huntington Society of Canada (HSC) and brings together about 20 adults living with Huntington Disease. Huntington Disease (HD) is an inherited brain disorder—if your parent has the Huntington gene, you have a fifty percent chance of inheriting the disease. HD causes cells in parts of the brain to die. An HD affected person loses his/her ability to control movements, recall events, make decisions and control emotions. Some describe it as having the combined symptoms of ALS, Parkinson's Disease and Schizophrenia. The disease leads to incapacitation and, eventually, death.
Camp provides both a reprieve for family members who are caring for and witnessing the gradual deterioration of their loved one, and a time for those living with HD to meet other folks who suffer from HD. In the face of this horrible disease, campers, volunteers and staff end up having a lot of fun together—we sail, kayak, canoe, swim, make crafts, play games, paint, sing, etc. For each two campers at Lake Joe, there is one volunteer who is a "buddy" to support and encourage them to participate and to help bridge any barriers to inclusion. While there, I'll also be sharing Soulful Singing every morning and in the evening playing guitar and leading songs around the campfire. I also help to create and lead rituals of welcoming, celebrating, grieving and departing with campers, staff and volunteers. My autumnal journey to Lake Joe is a highlight of my year. Eating, playing, chatting and singing with folks whose mortality is staring them in the face in every moment helps me to feel more present, grateful and alive.
Do you have a camp story to share?
We are holding on to our summer memories as the weather turns to fall and reflecting on our summer traditions within our UU communities. Does your congregation have an annual Summer Camp tradition? Do you head off together for a week or a weekend of campfires, outdoor worships, swimming, and community? Many congregations have these summer traditions, and we want to hear about what we have in common, and how our experiences shine with uniqueness! How does your camp tradition nurture your soul? We'd love to hear your stories! Send your UU camp story and a photo (with permission to share) to communications@cuc.ca.

Live Webcast: October 23, 2016. 6pm ADT | 5pm EDT | 4pm CDT | 3pm MDT | 2pm PDT
Celebrate of the life and works of Dr. Lotta Hitschmanova with the Canadian Unitarian and Universalist Historical Society and USC Canada. Lotta Hitschmanova (1909-1990) was the founder and first director of the Unitarian Service Committee of Canada – known today as USC Canada – and is arguably the best-known Unitarian in Canada's history. She is currently one of the candidates being considered for appearance on a bank note to be issued in 2018 featuring an iconic Canadian woman. Panelists will be Clyde Sanger, biographer of Lotta Hitschmanova // David Rain, former staff at USC Canada, and currently very active in the Lotta banknote campaign // Joyce Thierry, author of "Lotta Hitschmanova: Canada's 'Mother Teresa' with Attitude." All registrants will receive join details prior to the webinar.
Click here to register for this program. If you want to host or help host and event in your home or congregation, please contact jmarsh@uuma.org.
This fall we have youth-focused programming in each of our four regions! Please have a look at what's happening in your region and join us in beloved multigenerational community at an event near you.
---
Western Regional Fall Youth Con - October 14-16
Unitarian Congregation of Saskatoon - Saskatoon, SK
Registration now open! Deadline is October 7 so register now!
Open to all youth aged 12-20.
$55 per youth/advisor - weekend food and accommodations included
Join us for Drama Con - an exploration of all kinds of meanings of drama. We'll talk about how to deal with drama in our lives, learn about ourselves and push past our comfort zone in improv games, and explore the theme of truth, healing and reconciliation with Indigenous peoples in Canada. Most of the weekend will be youth space at UCS, but we'll join in multigenerational community with the rest of the gathering on Friday and Saturday evenings, as well as for the Sunday morning worship.
Register at: http://cuc.ca/youth/youth-events/western-fall-youth-con/
---
Eastern Regional Fall Gathering and youth con - October 21-23
Lakeshore Unitarian Universalist Congregation - Montreal, QC
Registration now open!
$40 per youth/advisor - weekend food and accommodations included
The Eastern Regional Fall Gathering includes a youth con from Friday to Sunday. Join us on Saturday for an exciting and interactive multigenerational program where we'll explore what it really means to be UU and how we can share our true selves and our diverse beliefs with each other. The afternoon program includes a fishbowl activity where we'll hear from voices of all ages and get to learn more about what touches each of us and what gives us spiritual sustenance.
There will be many other highlights of this weekend including youth worships on Friday and Saturday, con games, and a multigenerational Sunday worship about what it means to have interdependence, love and justice at the centre of our church lives!
Register at: http://cuc.ca/event/eastern-regional-fall-gathering-2016
---
Central Regional Fall Gathering - Saturday, October 29
Grand River Unitarian Congregation - Kitchener, ON
Registration now open. Homestays available so you can join us for Sunday morning too!
$25 youth/advisor and young adult - lunch, dinner and coffee included
Dear youth: This fall gathering has been designed with YOU in mind! Our workshop streams on Saturday include music and song leading with Matt Meyer and UU-style leadership skills with Asha Philar. In the leadership stream, you'll learn about group facilitation, and how to plan meetings that are meaningful, efficient and give us spiritual sustenance. Carry these skills with you so you can bring more inclusive group process into the world! The afternoon at the gathering will include a fishbowl activity where we can share our learning from the day and learn more about each others' beliefs, and a closing youth-style worship.
We'll also have an evening activity for youth and advisors in Kitchener after the day's programs (details TBA!). Please stay over in town on Saturday night to join us for Sunday morning worship, which will be an amazing, interactive, musical experience led by Matt Meyer.
Register at: http://cuc.ca/event/central-region-fall-gathering
---
BC Regional Fall Con - November 11-13
North Shore Unitarian Church - Vancouver, BC
Registration open - deadline is October 28.
$55 per youth/advisor - weekend food and accommodations included
Here's a taste of the delicious programming at this year's SoUUl Food themed con! At this year's Unitarian Universalist Youth BC Regional Fall Con, we will be exploring how food is intertwined with our identity, spirituality, and social justice. Food could tell a thousand stories with every bite, so we will be taking the time to listen deeply to the tales of the earth that grew, the arms that gathered, the hands that cooked, and the grumbles of our own cravings. Inside every act of cooking lies a revolution -- and a story about who we are. Let's forge a deeper understanding of what nourishes us in hopes that it will nourish our souls too.
Register at: http://cuc.ca/youth/youth-events/bc-youth-con
---
Questions? Please contact Asha Philar, the CUC's Youth and Young Adult Ministry staff at asha@cuc.ca or 226-820-9311.
From now to July 2017, the UUA is running a webinar series to train adults working with youth. The "Competencies for Ministry to and with Youth" is the UUA's new approach to youth advisor training, focusing on training adults who are part of youth ministry in congregations (that includes advisors, religious educators, ministers and other adults).
Each webinar features one of the competencies, and is given twice in the month. Canadians are welcome to participate! The webinars will be lead by UUA and regional staff who are excellent resources for those working in youth ministry in any capacity. I would highly recommend participating in these webinars, and passing this information on to any new youth advisors coming on board this fall. The webinars will be recorded for later viewing.
Upcoming Webinars include:
• Healthy youth/adult relationships - Oct 11 at 1:00 pm EST or October 12 at 8:00 pm EST
• Safety in youth ministry - November 9 at 1:00 pm EST or Nov 10 at 8:00 pm EST
• Pastoral care to/with youth - December 8 at 8:00 pm EST or December 13 at 1:00 pm EST
Click here to find more information and to register.
By Sarah Baxter
Like many congregations, here at the First Unitarian Congregation of Ottawa, we are excited to be offering Our Whole Lives (OWL) sexuality education programming this year. The plan is to offer every level of OWL, in some capacity, over the next two years. We began this fall with twelve kids and their grownups signed up for the Kindergarten-Grade 1 class, and it is off to a fun start, with life-sized body pictures of each of the kids decorating our walls.
We hope to include some picture book alternatives to some of the (sparsely illustrated) stories in the curriculum, and adapt our language to include non-binary genders. We also plan to turn the discussions into games and activities, from sorting toys to role-playing sperm who compete to fertilize the egg first. We are lucky to have had some really innovative facilitators over the years whose notes offer great, active ideas, and whose creativity has provided amazing props, such as a knitted uterus, out of which we will birth a baby doll, and cut the red string umbilical cord!
What Are Your Congregation's OWL plans?
Do you have plans to offer OWL this year? What is your congregation's story when it comes to sexuality education? Why do you feel that this program is important? We love to learn from each other, so please submit your own OWL stories to communications@cuc.ca.
The Natural Death Expo on Saturday, November 5, 2016.
By Ellen Newman
There is a growing community of people who have a desire to be as environmentally conscious as possible. Green initiatives are being created or highlighted everywhere one looks. Consumers are becoming more and more concerned about the products they are buying and the lifestyles they are leading. One need only look at the popularity of the Tesla automobile as one example.
The Natural Death Expo believes that one key area that consumers are becomingly increasingly interested in making "greener" choices is at the end of their life. "Natural" in terms of death can mean many things. For the purposes of the Natural Death Expo, "natural" means not only embracing end of life care practices that leave as small a footprint on the Earth as possible, but also practices that are more natural in a social sense – where the focus is on the person who is on the death journey and that allow those who love that person to participate in caring for them before and after death.
To that end, if you have ever wanted to find out how you could arrange to have a green or natural burial, or care for a dying loved one at home, or even just make any experience you have with death less frightening or cold, come to the Expo.
By Rev. Stephen Atkinson
Perhaps I've repeatedly heard the message, "Accept what comes," but it doesn't feel that way. In my current ministry as a Spiritual Care Provider – read: Chaplain – the patients I see preach this to me over and over again. I'm a slow learner but after a year I'm starting to get it.
Between 1980 and 2000, I study and then practice psychiatric psychotherapy. The focus is on helping myself and others change and grow through overcoming struggles, inner obstacles and unmanageable emotions, all of which are essential parts of becoming who we truly are. Gradually I realize that accepting the past and the present is the first step to being able to change for the future.
The call to Unitarian Universalism comes after a profound spiritual experience including a life-altering message of universal acceptance that fuels personal reclamation. For the next 15 years, the focus is on transformation dynamics, individually but also within the congregations I belong to and lead as a parish minister. Not to ignore the joyful and heartfelt connections built in covenantal communities, much of the work is still on obstacles, struggles and powerful emotions making way for change and growth. Yet it's crucial to identify issues or communal moments when acceptance is more important than striving.
Charitable Purposes Webinar on October 6th
8:30pm ADT | 7:30pm EDT | 6:30pm CDT | 5:30pm MDT | 4:30pm PDT
Do you have questions about your congregation's charitable purpose or articles of incorporation? Not sure where to find them or what they are? Do they need reviewing or updating? Join Vyda Ng in a discussion and Q & A session
There is no fee for this webinar: brought to you, compliments of your congregation's Annual Program Contribution to the CUC.
Click here to register. Registration closes October 5th
As Unitarians we want to acknowledge the First Peoples on whose traditional territories we live and work. Many of our congregations are already using some form of acknowledgement in their weekly services and we hope you will share this information. Do you know the Indigenous name for the territorial land on which your congregation meets? We would like to include the territorial name beside each of our congregations as we update the CUC website and share the work you have done with the rest of our national community. Our goal is to assist each of our congregations in making a territorial acknowledgement part of their regular practice.
Please complete this very short form to share any acknowledgement your congregation may be using.
Acknowledging territory shows recognition of and respect for Aboriginal Peoples, which is key to reconciliation.
What are your opinions about Canada's voting system? The House of Commons has formed a Special Committee on Electoral Reform to ask Canadians for their input, to identify viable alternative federal voting systems to replace the current first-past-the-post system and to conduct a study of them, as well as to examine mandatory voting and online voting. As part of its mandate, the Committee is using various tools and methods to consult with Canadians. This e-consultation is one such consultation tool intended to solicit Canadians' views both on voting and on the election of Members of Parliament. The Committee's report to the House of Commons will take into consideration the results of this consultation.
The attached letter was sent to Prime Minister Justin Trudeau from the Canadian Unitarian Council National Voice Team. The government leaders were urged to "take a strong position against the proliferation of nuclear weapons at the U.N. General Assembly in October by supporting the resolution establishing a negotiating process that will lead to the abolition of nuclear weapons."
We are grateful to our Peace Monitoring Group for their research and writing of this letter.
United Nations Sunday is an opportunity for Unitarian/Universalist congregations to celebrate the work of the UN and the Unitarian Universalist United Nations Office. Each year, the UU-UNO produces a resource packet for congregations to use in the creation of their UN Sunday service. This year's theme, economic inequality of local or global scales, is based on the UU-UNO Spring Seminar topic: The Colors of Inequality, Costs and Consequences.
The resource packet highlights this selected theme, provides readings, hymns, religious exploration curriculum, a planning timeline, and sample order of service. The UU-UNO invites congregations to plan their UN Sundays close to UN Day on October 24th. Please note that it is once again possible to submit donations to the UU-UNO through the CUC.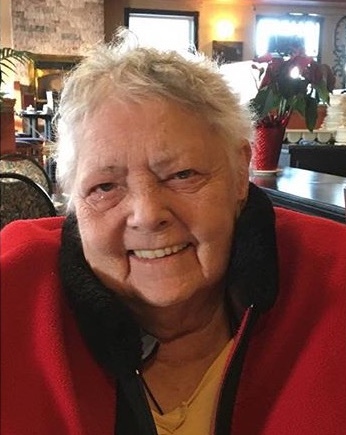 April 9, 1928 - September 17, 2016
Throughout her life, Bunny Turner was politically engaged, actively involved in social justice work, and an enthusiastic advocate for doing what is right. She leaves behind a Unitarian legacy, having worked for years as administrator at the First Unitarian Congregation of Toronto, after which she became a founding member of the Calgary Unitarian Fellowship, as well as the Canadian Unitarian Council itself. Countless groups and communities benefited from her contributions and enthusiasm.
After having lived in Toronto, Smith Falls, Calgary, and Montreal, in 1995, Bunny moved to Halifax to be closer to her family. There, she created a community of close friends, and was blessed to live so close to her grandchildren. She leaves behind her husband of 63 years, Pat Turner, her son Chris Turner and wife Debbi, her daughter Kim Turner and her husband James Morris, grandchildren Meisha, Dustin, Patrick and Katherine, great grand daughter Zoe, many beloved nieces and nephews and countless good friends. She is predeceased by her parents, Nancy and Victor Knight, her brother Dick Knight and her sister Judie Wilson.
A Tea to celebrate Bunny's life will be held at the Halifax Grammar School, Tower Rd, Halifax, NS, on October 22, 2016 at 3 pm. Contributions in memory of Bunny may be made to the Canadian Unitarian Council, a local Unitarian Universalist congregation, or charity of your choice
The First Unitarian Fellowship of Nanaimo (FUFON) is looking for a consulting minister to lead us into the future. We seek someone who can help us achieve our desired future! That means our ideal minister will be growth-oriented, forward thinking, and charismatic. We desire sermons that inspire and challenge us intellectually and are followed by warm interactions as we invest time and energy in getting to know each other. Click here for the full job posting.
October 6, 8:30pm ADT | 7:30pm EDT | 6:30pm CDT | 5:30 MDT | 4:30 PDT, Online
Do you have questions about your congregation's charitable purpose or articles of incorporation? Not sure where to find them or what they are? Do they need reviewing or updating? Join Vyda Ng in a discussion and Q & A session. Click here to register.
October 14-16, Saskatoon Unitarians
This fall we are coming together as indigenous and non-indigenous people to build community and move our work forward. New this year, people of all faith traditions are welcome, not just Unitarians, so bring your local allies with you, indigenous and non-indigenous.
Register now!
October 22, Lakeshore Unitarian Universalist Congregation, Montreal
Heart, Heads, and Hands A one day event with optional activities Saturday evening and Sunday morning worship, hosted by Lakeshore UU Congregation. Workshop streams include: Being UU, Money and Meaning, and UUs in the World.
• Click here for Adult Registration!
• Click here for Youth Con Information and Registration!
Please plan to be with us on October 23 when we will make history with our first webcast lecture. Click for the poster with more information and a link to register.
October 29, Grand River Unitarian Congregation, Kitchener
Register Now! For a day of workshop streams on music, leadership, and UU identity – youth welcome! Registration includes lunch. Online registration closes October 21st.
• Youth & Young adult registration: $25
• Adult registration: $75
• Jr. Youth stream: $30
November 5th, 10:00-5:00 at the Unitarian Congregation in Mississauga
If you have ever wanted to find out how you could arrange to have a green or natural burial, or care for a dying loved one at home, or even just make any experience you have with death less frightening or cold, come to the Expo.
Visit the website for the latest news and updates on the Expo – www.naturaldeathexpo.ca
November 11-13, North Shore Unitarian Church
At this year's Unitarian Universalist Youth BC Regional Fall Con, we will be exploring how food is intertwined with our identity, spirituality, and social justice.
Click here for more information and registration.
Silent Auction: Exciting Getaways, Gourmet Dinners, Jewellery, Gift Baskets and more!
Live Music: Irene Torres and the Sugar Devils