Rev. Brian Kiely, past President of ICUU
I have been privileged to watch the ICUU grow in every measurable way in the last 11 years. There are more national members (we formally welcomed Kenya into membership this year). There is more staff and increased professionalization in administration and program delivery. The budget has grown. Program capacity is dramatically enriched. And this year's meetings, with 150 in attendance, is the largest ever.
With the election of Calgary's Mich Michell as Treasurer, we are also continuing an uninterrupted 15 year stretch of Canadians on the Executive Committee. No other nation comes close!
The most important dimension was the willingness of the ICUU delegates to help reinvent the council and its mission in order to fit the changing times, and to do so in a positive spirit of fostering our liberal approach to religion.
Vyda Ng, CUC Executive Director
Making new connections with UUs from Kenya, Germany, Rwanda, USA, Romania, New Zealand, Colombia, Philippines, India, UK… the list goes on…. was an enriching, eye-opening and humbling experience. It brought home how diverse and how similar UUs are, and how interdependent we need to be to survive and thrive globally. From worship services to council meetings to workshops, participants spent time together. Some of the most valuable times were at meals and having a drink on the patio when UUs could chat, ask questions, laugh and find out about each other's countries and cultures.
At the closing ceremony, the new values and mission statement of the ICUU - "The mission of the ICUU is to empower existing and emerging member groups to sustain and grow our global faith community" - was translated and spoken in over 20 languages. Two young Unitarians from Burundi and Rwanda composed an original song.
Duff Bond, Unitarian Church of Calgary
This was my first time attending an ICUU conference, but I hope it won't be my last!
These are just a few highlights of the week:
I was not an official delegate of the Canadian Unitarian Council, but non-delegate attendees were very much welcomed to participate, even in the final stages of crafting the new Purpose Statement for the ICUU. I felt honoured to be part of that two day process.
I had been told of our UU roots going back to 1568 when Francis David founded the Unitarian Church of Transylvania, but that history only became real to me when I spoke with just a few of the 40,000 Unitarians now living in Romania and Hungary.
John Michell, Unitarian Church of Calgary, and newly elected Treasurer of the ICUU
This was my first-ever attendance at the ICUU Conference, and it was wonderful to be in the company of Unitarians (and people of other liberal religious faith traditions) from around the world. I chatted with people from Kenya, from the US, from the Netherlands, and from the Philippines, among many other countries, and I was struck by how committed they were to the benefits of international cooperation between our national organizations. From worship services every morning, to business sessions or workshops during the day, to daily chalice circles, to evening conversations and entertainments, the feeling of interested cooperation was very evident.
While at the general meeting I was honoured to be elected Treasurer of the Executive Committee, joining other members from congregations in the Khasi Hills of India, Germany, Transylvania, the USA, Switzerland, and Burundi. They are dedicated and creative people, and I'm looking forward to working with them.
National Conferences
CUC conferences have traditionally been held over the Victoria Day long weekend in May. There has been consideration about choosing a different weekend in May. Would you attend? Let us know by taking our survey.

In 2017, the CUC's Annual General Meeting will take place on Saturday, May 13th at the First Unitarian Congregation of Toronto; there will be no conference that year, although CanUUdle will take place in Edmonton (for more info, please email asha@cuc.ca.) The next national conference in 2018 will be hosted by the First Unitarian Church of Hamilton.
Share Your Charitable Purposes
A number of our UU congregations are re-visiting their articles of incorporation and charitable purposes. Prompted by the Canada Revenue Agency's audit of the CUC, there is a desire to ensure that purposes and articles are in keeping with CRA and Industry Canada guidelines.
We'd like to ask you to share your charitable purposes with CUC staff, so that we may compile these to share with congregations. If you are willing, please input the information at this survey. On the form, you can also make a contact request if you'd like to discuss updating your congregation's purposes.
For many years, CUC has used Yahoo groups to help UUs communicate, have discussions, ask questions and share resources. We are switching to Google groups for convenience - Yahoo requires that an invitation be sent to an individual, and that invitation has to be accepted before a member can be added to a group. Google allows us to directly add members to a group, which makes it easier for CUC staff to keep group memberships current.
Often when congregations are facing big decisions, embarking on vision or planning processes, they find themselves wondering how best to proceed. It is often useful to seek input from the members of the community, and to free up all members so that they can participate fully. Congregations also know that it is important to do the work in a way that includes a variety of viewpoints - so that our UU values of democracy, inclusion, and diversity are represented in the work and in the results. CUC staff recognize this need and have recently provided training to a group of people who are now able to act as facilitators for your congregation.
Dear Sirs/Madams in CUC,
I am S.*, pianist and lawyer. I believe in Unitarian Universalist from 11 years and I am an active member in the Church of the Larger Fellowship (CLFUU).
I came from Aleppo and after 3 years in the war time I moved with my wife and 3 kids to Turkey through Lebanon with hard journey. In Turkey the life is very hard for refugees but I am very glad that we are in Canada right now with sponsorship of the Unitarian Fellowship in Salt Spring Island.
I and my family want to thank Canadian Unitarian Council to help us and stand by us to came to safe place and now our children found in new home to live in it and build their future in it, and want to thank Ms Anne Marshall who still care about us and think all the time with our children and also the people in Salt Spring Island who welcome with us warmly and be very friendly with us.
Thank you to Canada also and we love you all.
S. and family
*For the safety of the refugees we sponsor, we protect a newcomer's identity for the first year after their arrival.
Oct. 14-16, 2016, Hosted by the Saskatoon Unitarians
You are invited to find your place in the circle …
This year's Western Fall Region Gathering is an inter-spiritual, multi-faith response to the Truth & Reconciliation Calls to Action.
Friday Multigenerational Ingathering and Reception 7pm
At the Unitarian Congregation of Saskatoon
Saturday Adult Program: A Medicine Wheel for the Indian Act
Responsibility * Relationship * Respect * Reciprocity
With Marjorie Beaucage, creator of Medicine Wheel for the Indian Act
• 9:00am – 4:30pm Program at Wanuskewin Heritage Park
• 5:00pm – 6:30pm Adult Dinner at Wanuskewin
• 7:00pm – 9:00pm Multigenerational evening at Station 20 West
Sunday Networking & Sunday Service
At the Unitarian Congregation of Saskatoon
Join us for the installation of Rev. Karen Fraser Gitlitz as Saskatoon's settled minister.
Youth Con on the theme of "theatre" for ages 12-20
Children's Program for ages 4-11
This gathering is for people of all spiritual and religious traditions – invite your faith partners in your own communities to join us in Saskatoon. Also, rebuilding kinship relations between indigenous and non-indigenous peoples starts with us. If you are a non-indigenous person, consider inviting an indigenous friend to attend with you. If you are an indigenous person, consider inviting a non-indigenous friend.
Registration opens September 1, 2016 – watch cuc.ca/events for more information!
October 22nd, 2016, Hosted by the Lakeshore UU Congregation
This is an annual opportunity to gather with others from the Eastern Region.
Singing, fellowship and an opportunity to learn and grow with other UUs.
More information is coming soon, check http://cuc.ca/events/ for details as they become available.
October 29th, 2016, Hosted by the Grand River Unitarian Congregation
Matt Meyer
Participants will experience the spirituality of community music-making through stories, games and discussions as well as look at how rhythm and music intersect with UU values. An all ages workshop.
Leadership and Meetings
This youth friendly meeting wil help participants explore the qualities of an effective meeting and to consider how they can, whether in a leadership or attendee role, help make it effective, fun and rooted in UU values.
Being UU
What does it mean to be a UU? What are the key elements of your UU identity? How does being UU make a difference in your life? Who would you be if you weren't a UU? Hear from others and consider an expanded understanding!
More information will be available soon! Check http://cuc.ca/events/ for updates!
October 14-16, Unitarian Fellowship of Peterborough
This workshop trains teachers in how to teach youth in grades 7-9 and youth in grades 10-12 about sexuality in age-appropriate ways.
Contact: Kate Huband, DRE at the Unitarian Fellowship of Peterborough, email: recpeterborough@gmail.com tel: (705)304-6186.
by Rev. Debra Faulk
A hallmark of our Unitarian and Universalist traditions is our congregational polity, the idea that each congregation is independent in governance, is self-resourcing, and creates its own cultural norms. This polity mirrored well the post-world war era cultural focus on independence which included an emphasis on urbanization with each household having the capacity to be self-sustaining. Gadgets were created to enable solo execution of functions that had been communal. Each individual home had its own tools and machines to eliminate the need for communal reliance. But now the zeitgeist of consumerism has run amok and brought us to ecological crisis.
Fierce individualism has resulted in far too many expressions of isolation and disconnection, and I wonder how it contributes to inequities of all kinds. Humans are, after all, relational beings and so as a consequence, we see various re-imagining of community, of connection. There is the shadow expression in gangs and extremist association, as well as cooperatives of all sorts, intentional collaboration and alliances.
From the THR Task Force
In congregational life, August is a time of looking forward and planning. As you begin to make plans for the coming year, you may have questions about the Truth, Healing and Reconciliation Reflection Guides. If you would like a basic understanding of the Reflection Guide process, we invite you to read all about it here.
Here's a snapshot of the status of each of the Reflection Guides.
Start looking forward to the UU United Nations Office's upcoming Intergenerational Spring Seminar in New York City, April 5-8, 2017. While addressing the global topic of Interfaith Action to End Armed Violence, participants will gain the tools and information needed to lead effective social justice activism in their congregations. The seminar will include interactive activities to explore this topic through inspiring speakers, training sessions, workshops, small group discussions, worship, and performances.
Help to make this a reality: Serve your faith and take the lead with activists of all ages by serving on the seminar planning team. The UU-UNO is seeking passionate youth and adults to serve as planning committee members for this exciting seminar. Learn more and apply by August 15th to serve on the planning committee!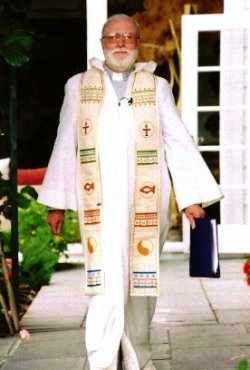 March 23, 1932 - June 16, 2016
J. McCree "Mac" Elrod will be remembered for a lifetime of social justice activism. His opposition to the Vietnam war in the 1960s resulted in his and his wife Norma's relocating to Canada, where Mac found a religious home in the Unitarian Church of Vancouver. In Vancouver, Mac trained as a Unitarian minister, while his and Norma's North Vancouver home hosted anti-war protests, conscientious objectors, and as the years went on, many children and grandchildren.
In 1991 Mac relocated to Vancouver Island, where his social activism continued, and he continued to host Unitarian gatherings at his home. He worked actively on LGBTQ rights issues, and was instrumental in bringing the CUC to the Supreme Court in support of equal marriage rights in Canada. He also served as chair of the CUC's Drug Policy Monitoring Group up until his death.
Mac is survived by his wife Norma, Mike Rees, his companion of 16 years, his son Matthew, his daughters Lona, Cara, Christy, and Laura, eight grandchildren and one great-grandchild. He was predeceased by his oldest son Mark. In lieu of flowers and cards, the family encourages contributions to: BC Civil Liberties Association and Habitat Acquisition Trust.
Read an in-depth portrait of Mac Elrod on the third page of his local community paper, the Metchosin Muse.
Seeking Applications for West Trust Grants
Each year the West Trust awards grants to Unitarian Universalist churches and fellowships in Canada in support of the furtherance of our religious principles. Approximately $7000 is available in 2016 for grants that may be used to support ministry, outreach, and programs that further promote Unitarian Universalism.
Applications must be supported and forwarded by the Board or other Governing Body of the applying church or fellowship, and only one application per UU congregation will be considered.
The deadline to apply is September 30th.
Click here for more information and the application form.
Unicamp is looking for a new Camp Director to start in September doing part-time work during our off season and taking on the role full time in May as camp opens. Unicamp is a Unitarian Universalist camp that is committed to providing a safe & welcoming seasonal camp and spiritual retreat to a diverse community. Our excellent U. U. values based programs & activities are designed to enable this community to demonstrate a respect of our natural assets, of each other & of the interdependent web of creation. The Camp Director ensures that Unicamp's Mission and Vision are being carried out throughout the year. Job details can be found here.
We are sad that our current director will not be continuing in the role in the Fall. We wish him luck and are excited for the world!
Sep 17, Online
Have you just joined a CUC congregation board and are wondering about the legal and practical perspectives of becoming part of that team? Are you a long timer and wish you had a shared understanding of how boards function?
We welcome you to a webinar based on a new video "Serving on a UU Board in Canada", produced by Jen Rashleigh. Geoff Gomery Q.C., a lawyer and former board member at the Unitarian Church of Vancouver, offers legal context and practical advice on serving on Unitarian Universalist boards in Canada.
October 14-16, Unitarian Congregation of Saskatoon
This fall we are coming together as indigenous and non-indigenous people to build community and move our work forward. New this year, people of all faith traditions are welcome, not just Unitarians, so bring your local allies with you, indigenous and non-indigenous.
October 22, Lakeshore Unitarian Universalist Congregation, Montreal
Save the date! More information coming soon.
October 29, Grand River Unitarian Congregation, Kitchener
Workshop streams on music and leadership skills - youth welcome! More information to come.
November 11-13, North Shore Unitarian Church
There will not be a Regional Fall Gathering for adults in the BC Region this year, but youth are still gathering! Stay tuned for more information and contact Asha with any questions: asha@cuc.ca